Today over 20 hotel groups in the United States are engaging guests with Amazon Echo and Echo Dot devices running Volara's software. We found over 200 reviews on TripAdvisor mentioning interactions with Amazon Alexa (all of which are powered by Volara). The response has been overwhelmingly positive.
Here are a few of our favorites...
Hotel EMC2 by Marriott Autograph Collection Chicago
"Some fun features for all you techy people out there- all hotel rooms are equipped with an Alexa Echo"
"The staff couldn't be nicer & they were all so very accommodating right down to bringing me a toothbrush via my Alexa request."
"The rooms themselves have Alexa and an interactive television..."
Westin Buffalo
"I was fortunate enough to be in a 5th floor room, equipped with a new Amazon Alexa. She could communicate to the hotel as well as help with general inquiries (tell me the weather, what time is it, tell me a joke, etc)"
"It was also equipped with the Alexa voice service, two flat-screen televisions and some beautiful locally sourced paintings"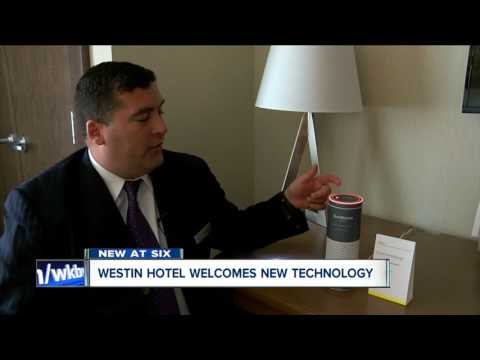 JW Marriott San Antonio
"One of those Amazon Alexa's that are being advertised on tv was in my room which was very cool. I asked it questions about the hotel and it knew the answers. I'm a coffee addict and it told me about the Starbucks in the hotel which made my day!"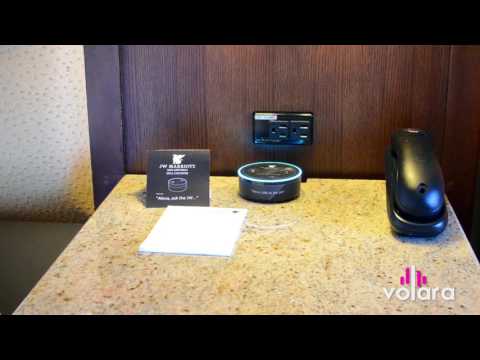 TheWit (by Hilton Doubletree)
"Loved having Alexa in the room, She entertained us several mornings and late evenings, "Alexa, tell me a joke."
"Pleasantly surprised to have an Alexa assistant in our room, which we used for nearby restaurant recommendations."
"Great restaurants are in every direction - including the one insider the hotel - and the most enthusiastic concierge staff you'll ever meet is ready to direct you, if the amazon alexa in the room hasn't already!"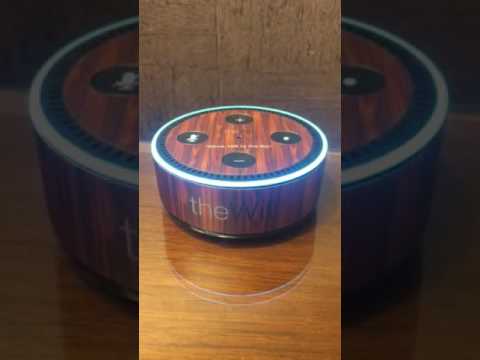 Alexis Hotel by Kimpton Seattle
"I was also given an Amazon gift card for trying Alexa in my room, another unexpected treat."
"I almost forgot, they even have Alexa to assist with any questions. Great idea."
Check out the Alexis Hotel's landing page featuring their custom branded Echo Dot!
Hotel Walloon
"I claim to be an electronic idiot, but the convenience of the electronic "Alexa", electronically lit mirror, and other services did not take us long to figure out."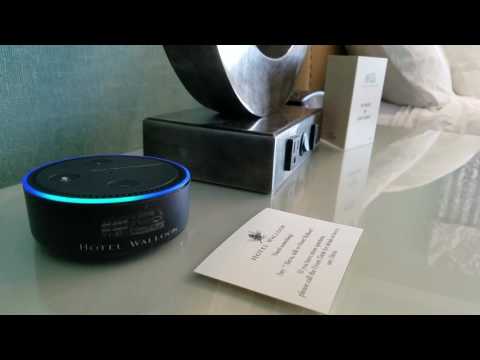 Marina Del Rey Hotel
"I watched crew shells race back and forth and listened to John Mayer tunes on the Amazon Echo while my boyfriend went to work."
Acme Hotel Chicago
"The room has everything you need as well as a Alexa assistant that you can ask anything."
"The free morning Joe delivery via in room Alexa was very cool!"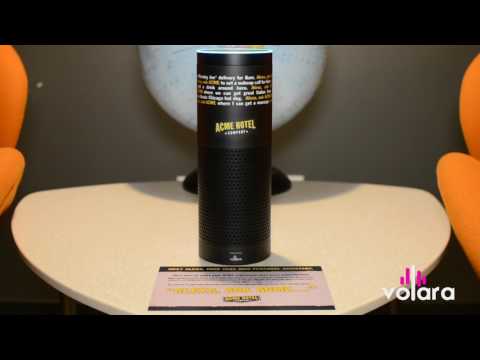 Would you like to experience the Volara-powered Echo for yourself? Feel free to reach out to us directly and we'll suggest hotels near you that are engaging guests with this cutting edge technology.